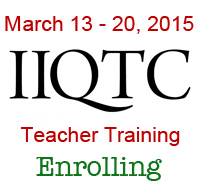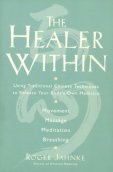 The Healer Within is a revolutionary book where you can learn four simple and remarkably effective techniques to release your natural powers for healing. The methods — gentle movement, self-applied massage, breathing exercises, and meditation — are drawn from the ancient Chinese healing system of Qigong (Chi Kung) and are easily adaptable to every lifestyle. The book has enjoyed wide popularity and there are Qigong practice sessions and classes starting across the United States.
Do you have a story to share?
Stories and testimonies from people who have had success with Qigong inspire and encourage others along their path. Many communities already offer Qigong in hospital settings, in churches, in community centers, etc. If you have a personal story to share, we would like to include it as a way to share community and information with others. Please send by e-mail.
Invitation to The Tai Chi &
Qigong Way - Learn More

"When people learn about the Healer Within themselves and then take action to care for their own physical, mental, emotional and spiritual health, they are transformed."

from The Healer Within
by Dr. Roger Jahnke

Learn and practice Qigong




You can begin your Qigong practice today. See the HealerWithin.com Practice page for tips on how to get started, guidelines for practice, and easy to follow instructions for Qigong practices.

Start a Qigong practice session in your community
A weekly, community-wide practice session can provide a kind of heartbeat for everyone's independent Qigong practice. And it can be a heartbeat for community improvement as well. Visit out our Getting Started page explaining how to start up a Qigong class in your area. It is packed with information and helpful aids to assist you in setting up a class. We've even included some student handouts and advertising flyers for your use.

Become a Community Practice Leader or Certified Integral Qigong and Tai Chi Teacher
No training is needed to begin sharing Qigong for self-care and health promotion in your community, simply a sincere intent. Nevertheless, some people are more comfortable having attended a training program before they begin leading practice sessions, especially if leading a group is a new experience.

The Institute of Integral Qigong and Tai Chi Community Qigong Practice Leader one-week training program is offered to address that need. Additionally, this training is appropriate for those who simply want to deepen their personal Qigong practice and learning. For those who wish to become a Certified Integral Qigong and Tai Chi Teacher, Dr. Jahnke offers additional trainings.